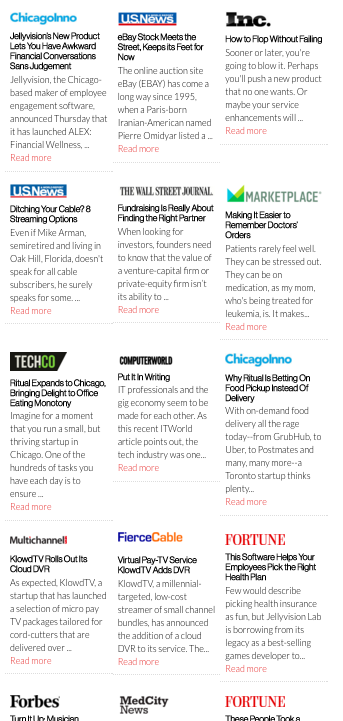 Among the many reasons for a startup to focus on PR — whether through a DIY effort or by hiring a freelancer or agency — are the twin benefits of credibility and awareness. Sure, you can pay for awareness, but the only way to get credibility is through a third-party endorsement.
So why is it that so many companies, when they achieve some measure of PR success, do so little with it?
Take the startup Press Page. For some reason — not enough time, uncertainty of what it should be, a perceived shortage of placements — too many startups fail to take it seriously or to give it the TLC it needs to be a successful communications tool.
Here's our advice:
Update It Instantly – As soon as that placement is secured, someone on your team should have it as their responsibility to get it posted to the press page. The vast majority of sites today are built on WordPress or some similar content management system, so this should be a piece of cake for anyone to handle with just a minimal amount of training.
Use Publication Logos – Press pages can help people learn about your startup, but more likely, they'll get quick scans from prospective customers, investors and partners. What do they see when they get there? If time's short, they better see logos from each publication.
Use Excerpts – Give the reader a taste of the placement featuring your company, with a brief excerpt from the article. This might be a few sentences about your product, the first few sentences of the article or possibly your own summary of the piece. Regardless of your approach, just keep it consistent and compelling.
Link to the Articles - This one seems obvious but many times press pages don't link to the article or they just show logos of publications where the startup (supposedly) was featured. But you want to help the intrigued reader dig deeper. Also – it's a good idea to have the links open new browser windows to keep your site on the reader's screen (though we confess to not being so good on that one ourselves…).
Separate Articles from Releases - It's tempting to lump together placements and press releases into a single list of articles, but we recommend keeping them separate. If you don't yet have sufficient placements, and what you do have looks a bit slight, then go ahead and mix them up. Just do so with an eye on separating them eventually.
Use A Single Page – It's unlikely that you're going to be dealing with hundreds and hundreds of placements, so why not keep them all on one page? You should resist the urge to require clicking through month by month or year by year – make it easy for the reader to see them all.
Get Clever with Organization - We love what our client Reverb.com did with their press page. For certain moments that captured a lot of attention, such as their recent funding news, they gathered several of the more prominent placements in a single place. It looks great. You can also opt to put the most impressive news up front, so that great placements don't get bumped simply for being a couple months old.
So there you have it, our recommendations for a killer startup company press page. Want more ideas? Let us know!